Exmoor: A place to visit in all seasons.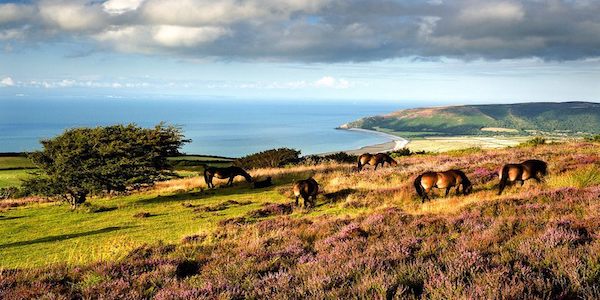 SPRING
With the winter chills behind us & temperatures rising, delicate snowdrops appear, woodlands are carpeted with bluebells & the landscape is abundant with yellow daffodils & gorse. Lambs & foals are born. The air is fresh, the days are longer & it's glorious to be out of doors. Guided walks can be booked, charity dips take place in the sea, Farmers Markets & car boot sales begin. There are wellbeing & food events locally, and Easter events at attractions nearby including Dunster Castle. 
SUMMER
Early morning mists followed by lovely clear blue skies are common in early summer. A perfect time to enjoy a picnic, join an activity or an organised safari taking you off the beaten track. The sea is getting warmer for swimming. In the school holidays, Exmoor thrives with lots to see, do & enjoy. The moor is, however, still a place of peace & tranquility enjoyed by walkers, cyclists & those enjoying a trek on horseback. On Sundays & Wednesdays Wellhayes have a vineyard tour & wine tasting. There are food, drink, country fairs and horse shows too. In August there is a classic car tour of Exmoor plus display of classic vehicles.
AUTUMN
There is a wealth of colour in Autumn, the moor is carpeted with purple heather and gorse bushes a blaze of bright yellow. Days are still long, with many days benefitting from clear skies & at night a perfect time to star gaze Exmoor's famous dark night skies, 92%  free from light pollution. West Somerset Autumn Steam Gala is organised for end of September at the West Somerset Railway. Dark skies discovery evenings & festival are in October, as is the Two Moors Festival & Somerset Art Week, while Dulverton Literacy Festival is in November. There are still a lot of walks & other events to enjoy at this quieter time of year. 
WINTER
Crisp, frosty winter days are a great time to explore the dramatic coastline, explore the open moorland, wooded river valleys & coombes. Leaves have fallen from the trees & the area takes on a different character. There are photo walks to join, food, drink, antique, collectors & vintage fayres to go to. Many festive activities are organised including Dunster by Candlelight & Dulverton by Starlight. 
Throughout the whole year there is an abundance of fantastic events on Exmoor to enjoy on your own, or with family & friends. There are superb places to visit & if you enjoy a challenge, many activities to choose from.
Up to date details of Things to Do, Natural Attractions, Events, Getting Active, Eating Out, Local Producers & Local Shops can be found at: